The painting is missing its sound, but it is not retrievable.
The audio recording is not the sound of the painting because the painting is seen all at once.
The two are divorced from one another.
The only way to associate sounds with the painting is to be there when it's made, and hear the sounds for the marks as they're being made.
The completed painting has no sound.
The two are related: the recorded sound and the complete painting.
From my reflective statement, written in 2011.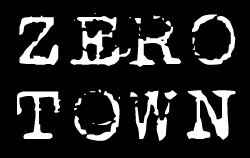 The first issue of ZERO TOWN is now available HERE. It was printed as a limited run of 100 (They'll all be signed and numbered). Physical copies are 6.50 and if you follow through to the blogpost you can read about the process, see some pics, and download a digital copy. (Please consider donating if you enjoy the digital copy to encourage this comic-making behavior.)
Recent Posts
deadlift  5 rep max: 110kg
squat double: 100kg