1 .
COME SEE ALL THE THINGS I'VE MADE BLOG POSTS ABOUT
---
2.
OR, IF IT HELPS, YOU CAN SEE POSTS ACCORDING TO [SOME LOOSLY DEFINED] CATEGORY
DRAWING – my life in drawings
VIDEO – assisted seeing/listening
WRITING – or something like it
PERFORMANCE – when I performed, anywhere was a cave
---
3.
SOME THINGS ARE COLLABORATIONS.
To me this means we are co-creators in the process of a thing's becoming–rather than just being involved on a project that requires me to handle one discrete part (There are many of those as well, but that's not this).
---
4.
ALSO HERE'S A CHRONOLOGY OF WHEN I'VE MIXED MY WORK WITH THE WORLD (some of these things don't have blog posts…..and some blog posts aren't included here……here you're looking at a different ball of wax.)
**********
New-found [love of] punishment
no ideas
Hello Darling
– January 7, 2016 – When I stopped naming years, but rather other kinds of chunks –
2015 – So Far, Gliding
2014 – The Year of Disintegration
2013 – The Year of Magic and Muck
2012 – The Discovery of Motion and Light
2011 – A Year in the Cave
2010 – Year of Finger Sandwiches
2009 – Canvas for Paper
2008 – Year of Our Landing
– TSC performance – Blank Media Presents – Manchester, Fuel Café
– TSC performance – The Noise Upstairs – Manchester, Fuel Café
Before 2008 I lived in Miami and was in the group failure, arc of beauty.
NEW COMIC FOR SALE!
Check out my new comic! It's £5 and includes Rod's jalapeño mac n' cheese recipe!
Click on Rod for details...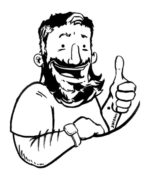 In the wheelhouse