Danish, Rod, and I made this last night–the final night of her stay here in England before returning to California. I am so lucky to have this amazingly beautiful human as one of my oldest friends.
Danishta Rivero – vocals
Rodrigo Constanzo – lights
NEW COMIC FOR SALE!
I made a comic!
Click here for details...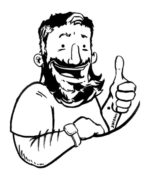 In the wheelhouse