Browsing articles in "Video"
I've made the logo and video bumper for FluCoMa
What is FluCoMa?
The Fluid Corpus Manipulation project (FluCoMA) instigates new musical ways of exploiting ever-growing banks of sound and gestures within the digital composition process, by bringing breakthroughs of signal decomposition DSP and machine learning to the toolset of techno-fluent computer composers, creative coders and digital artists.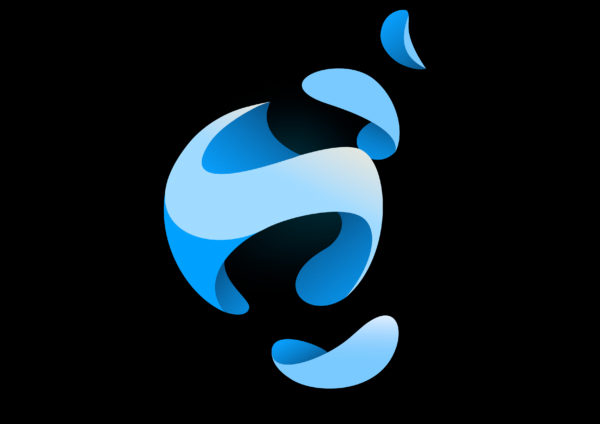 To create these I:
1) Used Affinity Designer – this was the first time I made something for someone else using vectors. I normally draw using traditional media (and I'll occasionally color using Photoshop)
2) Created and filmed many different types of ink behavior, on paper and in water
3) Revisited my aviglitch library scripts from when I made Its Fleece Electrostatic, to create the glitch effects found in the video bumper
4) Used Final Cut to animate the different elements of the logo for the bumper
5) And of course just sketched a lot using pencil and paper to get initial ideas down, or to try to change the direction of the design.
Here are some key moments in the logo's evolution (Though it wasn't exactly as linear as this and I've left out some things.)
Continue reading »
This is a collaboration with David Pocknee and Richard Craig. It's definitely David's piece but he invited us into the compositional process with him. We met several times over the span of two years to come up with what this work ultimately became. It was just a lot of trying things out; a lot of looking at stuff and a lot of moving stuff around. David is good at combinations. I just love him. We You can find the score here (on David's website).
This is a music video I made that features the electronic version of Aaron Cassidy's The wreck of former boundaries ("The wreck of former boundaries (2014-15) for fixed media 5.1-channel electronics").
I asked Aaron if he wouldn't mind sitting down with me while I filmed him. I didn't know what I would make, but felt like I had enough kernal thoughts/feelings at the time that something not hollow would happen. I was sitting in a talk he was giving about his new work, and as he played this piece, I was struck by how he listened. That's when it became clear to me that I needed to capture both of these things: his words and his listening. The rest of my ideas would hang on this as the material, or this would be the material through which I'd look into those things.
This is the first thing I made out of that material: A music video.
For the most part, his reactions in the video are in sync with the sounds he's hearing. It was important to me to preserve that. However, there are some time-stretch manipulations, and in just a few cases I cut in footage from other moments as necessary band-aids in the editing process. I also manipulated the footage in order to assist you in seeing what I see. I tried to do this as unobtrusively and subtly as possible.
It's also worth mentioning that we ran through the piece only once. While I am very familiar with the piece (having listened to it many times leading up to this shoot) I felt it important to improvise the lighting direction. I have an almost metaphysical trust in improvisation, and enjoy the process of being in that kind of heightened state of awareness.
David Pocknee and Susie Green were my assistants on that day.
Susie helped with the gear and play-back audio,
and David helped me as a light operator, and by recording the interview's audio.
Thanks to them, and of course thanks to Aaron for his trust in my process.
(Here you can read Aaron's post about it on his webpage.)
Saturated. The Rest. is a collaboration between these amazing humans/techgnomes: Pierre Alexandre Tremblay, Sylvain Pohu, Patrick Saint-Denis, and Rodrigo Constanzo. The following 4 videos I made focus on different aspects of the project.
The creative process behind the Black Box Project. released Jan. 9, 2017

A quick and dirty 2 minute introduction to the project. released Nov. 2016

Tech Feature: the design of an instrument. Sept. 2016

---
Showing something of the beginning of the Black Box project. July 13, 2016. (only editing by me. Shot by Rod and PA)

MENU
most recent posts
deadlift double PR: 110kg / 242.5lbs (Oct.8,2018)