June 3, 2015 – Part 2 of Scott, Heather, and Mic's collaboration. Read what Scott had to say about it here.

March 9,2015 – Scott, Heather, and Mic collaborate on a piece. Lots of stuff on multi-phonics in this first episode which condenses a workshop they conducted at the University of Leeds.

March 15, 2015 – a promo vid for an installation Scott is doing with cellist Seth Parker Woods

November 23, 2013 – Surfaces of Emergence by Scott Mc Laughlin. Performed at the Huddersield Contemporary Music Festival by Alex Harker, Stephen Harvey, Hali Santamas, and others…

1 Comment
NEW COMIC FOR SALE!
I made a comic!
Click here for details...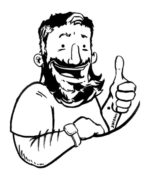 In the wheelhouse