Over the years, I've worked quite a bit with the Yorkshire Sound Women Network. Though I was behind the lens, I absorbed much at each workshop and event they put together–not the least of which was the enthusiasm these events generated. YSWN is an organization that actively encourages girls and women to gain competency with sound equipment and music making. Here is a collection of those videos (my favorite is the Noisey Toy Assembly video below. You'll see why).
---
Live Coding!

---
DJ-ing!

---
Looping!

---
Machine listening!

4 Comments
NEW COMIC FOR SALE!
Check out my new comic! It's £5 and includes Rod's jalapeño mac n' cheese recipe!
Click on Rod for details...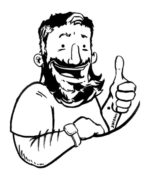 In the wheelhouse