I manipulated this video that Daniela Amortegui and Alex Grimes recorded. I time-stretched, color-fiddled, edited/reorganized Daniella's reading of text she had written. Isolating her breath(s) was really important to me too. Then I added text to the video as well, since I knew that during the performance it would be the piano speaking* for her, which can be difficult to understand.  I also played with shifting the text and the the video so they're not always synced and at times I've added my own imaginary text. I wanted to treat this like poetry. Then Alex thought it would be a cool idea if we obfuscated some of the text and so we did that too. This was played/performed at the Pianos Without Organs Festival on Oct. 9, 2016 in Raleigh, North Carolina (the best Carolina).
*curious about how a piano can speak? Watch this video I made about a Robotic Piano workshop:

1 Comment
NEW COMIC FOR SALE!
I made a comic!
Click here for details...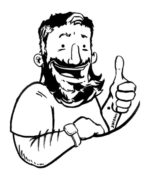 In the wheelhouse