Saturated. The Rest. is a collaboration between these amazing humans/techgnomes: Pierre Alexandre Tremblay, Sylvain Pohu, Patrick Saint-Denis, and Rodrigo Constanzo. The following 4 videos I made focus on different aspects of the project.
The creative process behind the Black Box Project. released Jan. 9, 2017

A quick and dirty 2 minute introduction to the project. released Nov. 2016

Tech Feature: the design of an instrument. Sept. 2016

---
Showing something of the beginning of the Black Box project. July 13, 2016. (only editing by me. Shot by Rod and PA)

2 Comments
NEW COMIC FOR SALE!
I made a comic!
Click here for details...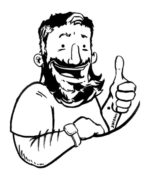 In the wheelhouse