Sometimes I make music videos and sometimes videos about music. Here are some of my favorites from other people in no particular order:
Childish Gambino – This is America

Aphex Twin – Windowlicker

El Guincho – Bombay

Erykah Badu – Window Seat

Gesaffelstein – Pursuit

18+ – Drawl

Die Antwoord – Zef Side

Jon Satrom – 100 Force Quit Noise Cancel Calculators

Nirvana – Heart Shaped Box

R.E.M. – Imitation of Life

Sia – Chandelier

NEW COMIC FOR SALE!
I made a comic!
Click here for details...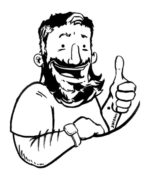 In the wheelhouse