This is a music video I made that features the electronic version of Aaron Cassidy's The wreck of former boundaries ("The wreck of former boundaries (2014-15) for fixed media 5.1-channel electronics").
I asked Aaron if he wouldn't mind sitting down with me while I filmed him. I didn't know what I would make, but felt like I had enough kernal thoughts/feelings at the time that something not hollow would happen. I was sitting in a talk he was giving about his new work, and as he played this piece, I was struck by how he listened. That's when it became clear to me that I needed to capture both of these things: his words and his listening. The rest of my ideas would hang on this as the material, or this would be the material through which I'd look into those things.
This is the first thing I made out of that material: A music video.
For the most part, his reactions in the video are in sync with the sounds he's hearing. It was important to me to preserve that. However, there are some time-stretch manipulations, and in just a few cases I cut in footage from other moments as necessary band-aids in the editing process. I also manipulated the footage in order to assist you in seeing what I see. I tried to do this as unobtrusively and subtly as possible.
It's also worth mentioning that we ran through the piece only once. While I am very familiar with the piece (having listened to it many times leading up to this shoot) I felt it important to improvise the lighting direction. I have an almost metaphysical trust in improvisation, and enjoy the process of being in that kind of heightened state of awareness.
David Pocknee and Susie Green were my assistants on that day.
Susie helped with the gear and play-back audio,
and David helped me as a light operator, and by recording the interview's audio.
Thanks to them, and of course thanks to Aaron for his trust in my process.
(Here you can read Aaron's post about it on his webpage.)
1 Comment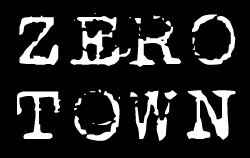 The first issue of ZERO TOWN is now available HERE. It was printed as a limited run of 100 (They'll all be signed and numbered). Physical copies are 6.50 and if you follow through to the blogpost you can read about the process, see some pics, and download a digital copy. (Please consider donating if you enjoy the digital copy to encourage this comic-making behavior.)
Recent Posts
deadlift  5 rep max: 110kg
squat double: 100kg